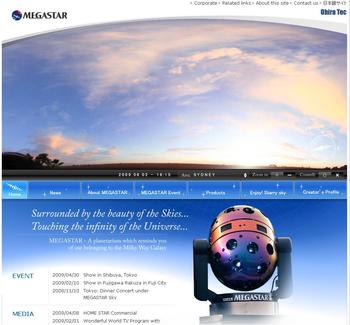 English Version

   English Site URL:http://www.megastar.jp/en/
This English version of the MEGASTAR Super Planetariums was renewed today!
The English version is almost a full copy of the original Japanese version.
Here you can see information about MEGASTAR Super Planetarium systems, their activities in the world and related events.
Also you will find here information about Ohira Tech. and the planetarium creator Takayuki Ohira.
The top flash of the main page shows the sky in real local time for 10 different cities in the world. Enjoy watching the sky of those places. You can follow up interesting events like planet Conjunction. The images are generated constantly using Ohira Tech's database with of 5 million stars.
Contents are renewed and changed constantly. Keep on touch!