Splendid night sky shows with MEGASTAR projectors
For night sky shows with MEGASTAR projectors, and for various events, we will introduce here the available models of MEGASTAR star projectors.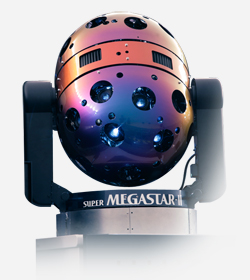 The most advanced night sky ever created by a human on earth
It was introduced in June, 2008. It is the recent and highest performance device. The ship flag of the series. It is the most advanced man-made night sky projector on earth - Super MEGASTAR II. It is capable to project up to 13th magnitude stars (around 22 million stars). The milky way is filled with extremely small stars which you will be hardly distinguishing them even with a binocular. All Messier objects including Nebulae, clusters, galaxies etc. (140 objects) are also reproduced. You will see them using a small telescope just the way amateur astronomers use their telescope to watch the sky. However, doing so there is great chance to mistake Super MEGASTAR II sky with the real sky…

With thier high quality night sky MEGASTAR II projectors are travelling all around Japan
After creating MEGASTAR I in 1998, Ohira started working on his next model for bigger domes with improved quality. That was MEGASTAR II which could function in 25 meters in diameter domes with over 4 millions stars projected. Currently MEGASTAR II models Phoenix and Titans are the backbone of Ohira Tech travelling all over Japan demonstrating the beauty of our sky.
MEGASTAR-II Phoenix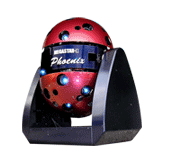 Phoenix was MEGASTAR II first machine. Red colored body reminds fire bird. That was a time when the popularity of planetarium a little decreased in Japan, and Phoenix came to resurrect it. In 2003, it was first demonstrated in Shibuya Tokkyu Cultural Center, Tokyo (A famous previous GOTO planetarium theater of 20m diameter). With 4 million stars demonstrated in Shibuya sky, it had the appreciation of the spectators who strongly applaud for the born Phoenix.
The reddish color of Phoenix varies with the angel of view thanks to Mazoora painting.
MEGASTAR-II Minerva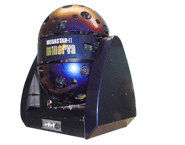 After the stunning success of Phoenix as a mobile planetarium, and to answer the public demands, Minerva, the second MEGASTAR II machine was born. Using the name of the God of Wisdom, Minerva was intended to lay light of wisdom on the recently resurrected interest to Planetariums by Phoenix. Minerva was manufactured in 2004 and first introduced in Fukuoka art museum. Later Minerva demonstrations were hold in different science museums, concert halls and during ballet performances. Currently Minerva is permanently installed in Kawasaki Municipal Science Museum for Youth showing the night sky on daily basis for all visitors.
MEGASTAR-II Cosmos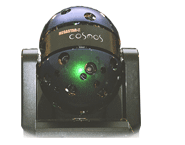 The first machine of MEGASTAR series made initially for permanent installation in the National Museum of Emerging Science and Innovation producing 5.6 million stars MEGASTAR II Cosmos. It was registered in World Record Guinness Book as the most advanced optical planetarium projector in the world. (Currently Super MEGASTART II is the most advance with 22 million stars).
MEGASTAR II Cosmos was made to show the night sky as it appears from the space. It can control the brightness of the stars, and project planets. Ohira proved high technological abilities making the world champion star ball fully synchronized with the planet projectors which made the National Museum of Emerging Science and Innovation planetarium unique and very popular.
MEGASTAR-II Titan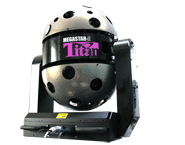 Build in 2005 for Aichi Expo Exhibition, the fourth machine in the series - Titan with 5.3 million stars. There were several improvements on performance and control which were implemented to Titan. It was first introduced during Aich Expo in the Satellite Exhibition, then in Nihonbashi HD-DVD planetarium. It is now used mainly for long run temporary shows. Now, Titan (the youngest among his brothers of MEGASTAR-II) became the widest known model of the series.
MEGASTAR-II Extra Bright Type
To bring the space world for a moment to live events and shows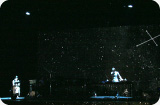 Again MEGATAR made the impossible possible. It was always a strict condition to have complete darkness to make the stars visible. To get rid of this strict requirement when the illumination cannot be completely switched off (TV shows, musical concerts, movies etc.) MEGASTAR II Extra Bright Type come into existence. Its stars are 20 times brighter than the conventional types.
Photo: Marimba player SINSKE & Reading collaborative event.

The first Planetarium in the world to exceed million stars - MEGASTAR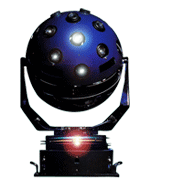 The first machine to break the traditional limitation in planetarium industry history - MEGASTAR. It is a single machine star ball 46 cm diameter and 27kg weight. Ohira created it himself in his own room. He hold it himself to the International Planetarium Society (IPS) to London Conference in 1998 where it was demonstrated for the first time. In 2000 the first public show took place in the famous Omotesando in Tokyo during the Millennium Christmas. MEGASTAR became a known name among the generations laying warm star rays onto hearts of its admirers.
Recently, MEGASTAR-I undertook modifications, and it now projects 4.1 million stars.