MEGASTAR Portabls Shows
MEGASTAR can be used in planetarium domes, Portable domes, Commerce centers, Concert halls etc. Wherever MEGASTAR is used, it produces wonderful night sky stars. If you have any questions about events organizations please contact us.
Materials required for Portable Shows
We prepared this guidance regarding event organization.
About Shows
MEGASTAR demonstrates beautiful and clear night sky as seen from space. Mobile Super Planetarium: MEGASTAR series can be used for organizing shows in Planetarium domes, Inflatable domes, Commerce centers, Concert halls etc.
Example 1F Show in Existing Dome
Chubu Electric Power Inc. Yokohama Atomic Reactor hall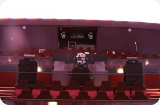 Large screen theatre (Omni Theatre) of 18m diameter dome was used as it with MEGASTAR II-Titan with five millions stars to demonstrate night sky. Takayuki Ohira himself took microphone, told the attendee the story of MEGASTAR creation. He virtually traveled all over earth demonstrating night sky and aurora as seen from those spots. Using existing dome is easier and cheaper, and good quality dome can afford great quality for shows. These shows are hold annually by Ohira Tech.
Example 2: Show in Commerce Center
Hilton Plaza Osaka - Gift of the stars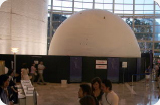 Just located near Osaka central station Hilton Plaza Osaka - a big commercial complex. In few moments huge dome of 10m. diameter appeared. The guests of the complex got attracted by the shape of the dome structure and the sounds coming from it during shows. Dome visitors enjoyed a virtual trip watching the night sky from different locations on earth travelling via different seasons finishing in the south pole. The portable MEGASTAR makes such shows possible wherever.
Example 3: Show in Planetarium Theatre
Akashi municipal Planetarium &MEGASTAR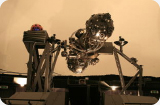 The oldest Carl Zeiss Projector in Japan. A huge planetarium Projector designed for Akashi Municipal Planetarium. With its warm night sky it is a beloved planetarium for a many throughout the years. And here, the latest Planetarium device MEGASTAR II is visiting Akashi planetarium to fit only on Zeissf shoulder like a birdfs nest! The two devices only look different, but there is a lot common between them. MEGASTAR will help you rediscovering again the beauty of the stars.
Example 4: Non dome show
"The moon" Movie preview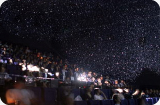 During the preview of gThe Moonh documentary movie about human first landing on Moon, suddenly the frame of screen were enlarged to cover the whole hallc Stars everywhere. Even when there is no dome, MEGASTAR can project stars on ceil, walls and floor. For avoiding the unevenness of the walls, there is a special type of MEGASTAR II Extra Bright Type. In this way the beautiful night sky can be projected in concert halls, theatres during other shows, dances, or TV program.